Memorial Page
JoAnn Harris (Davis)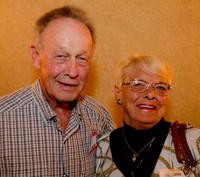 With a very heavy heart I am adding Joann Harris Davis to the list of angels. Joyce Eakins Farabaugh and I are at Joann house for the memorial service today. She passed at 2:30 am on April 11. Under circumstances beyond my control we were unable to get here before. We arrived 12 hours after she died. We have been able to help Jay with plans and met their son Brian. More to come.
April 15, 2016 Joyce Eakins Farabaugh and I have returned from visiting with Jay and JoAnn's son Brian. It was my pleasure and joy to meet Brian he is going to keep close tabs on his dad
JoAnn had written her memorial service and chose 5 songs to be played. Her humor and "say it like it is" attitude continued throughout the service. You never had to guess what was on her mind. She told you. The songs were hard to listen to but we're also beautiful
The love story of JoAnn and Jay was so powerful. They started dating in 1958 and were married for 51 years. Jay says he can still see her walking down 11 th avenue in Altoona PA wearing a "little black dress" and it was love at first sight. He chooses to remember her in good times. Jay took care of her alone with the help of hospice until she slept away. He took such good care of her and loved her so much
Jay is a jokester the same as JoAnn. While I was there he gave me "a diamond clip" who he said JoAnn wanted me to have.
In seventh grade Joann, Jeanie Bayle, Jeanie Fletcher, Winnie Keys and Sandy Kenner met and were friends forever Today only Jeanie Bayle and myself Sandy remain. We all need to cherish our friendships